* PLEASE NOTE: WE NO LONGER ACCEPT DROP- OFFS OF TV'S OR CRT MONITORS.
3350 Ambrose Avenue
Nashville, TN 37207
Office: (615) 265- 8101
COMPUTER AND ELECTRONICS RECYCLING
FOR NASHVILLE AND MIDDLE TENNESSEE
We Offer On-site Data Destruction Services
Types of Electronics We Recycle
Free Electronics Recycling in Chattanooga with Tri-Star
free pick-ups on most electronics

data destruction services

onsite data destruction upon request
Visit our services page to learn more.
Monday 7:00 AM-4:30 PM
Tuesday 7:00 AM-4:30 PM
Wednesday 7:00 AM-4:30 PM
Thursday 7:00 AM-4:30 PM
Friday 7:00 AM-4:30 PM
Saturday Closed
Sunday Closed
Save Time and Money with Free Computer Recycling in Chattanooga
Tri-Star provides electronics recycling in Chattanooga and the surrounding areas. We make it easy for local businesses to responsibly manage unwanted electronics and keep them out of landfills. We provide pickups for businesses, offices, schools, and medical facilities, to safely and responsibly recycle all types of unwanted e waste, including PC's, laptops, cell phones, monitors. The process is simple. Give us a call to schedule a pick-up, and we'll handle the rest. Our services help businesses work toward environmental sustainability, while also simplifying the process of dealing with large amounts of e waste. We also provide data destruction services to ensure no information is left behind on your devices.
Tri-Star's computer recycling services helps Chattanooga businesses manage large quantities of unwanted desktops and laptops in an environmentally friendly manner. These types of electronics are especially important to keep out of landfills, since they contain toxic materials. Many of their components are not biodegradable, and some of those materials can be recycled to make new products. By recycling these types of e waste, businesses can help keep harmful materials out of the local landfill and ensure that old equipment is safely managed.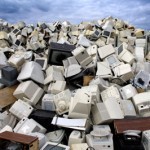 On-site Data Destruction Services
Tri-Star's data destruction services ensures that no information is left behind on the devices you send for recycling. Upon request, we can also provide a Certificate of Destruction to provide additional peace of mind. We understand the importance of privacy in the digital age, so on-site data destruction means there's no information left behind on your hard drive when it leaves your facility. We meet all HIPAA and Department of Defense standards for data destruction.
The following list provides an overview of the types of electronics we accept, but if you have e waste that does not appear on this list, don't hesitate to ask.
Computers
Modems
Laptops
Monitors
Motherboard
Hardware
Servers
Circuit boards
Wiring
Telecommunications Equipment
Telephones
Cell Phones
Cables
Medical Equipment
and more
Learn More About Tri-Star Electronics Recycling Services

To learn more about electronics recycling, you can visit our frequently asked questions. You will also find more information about e waste, why it's important to recycle computers and electronic equipment, and the long-term impact sending these types of items to the local landfill has on the city of Chattanooga.
To begin the process of scheduling a pickup, simply fill out our request pickup form. We'll need your name, email address, business name and address, and a general idea of the types and quantities of the items you're interested in recycling. If you have any questions, feel free to give us a call or send us an email.