* PLEASE NOTE: WE NO LONGER ACCEPT DROP- OFFS OF TV'S OR CRT MONITORS.
3350 Ambrose Avenue
Nashville, TN 37207
Office: (615) 265- 8101
COMPUTER AND ELECTRONICS RECYCLING
FOR NASHVILLE AND MIDDLE TENNESSEE
We Offer On-site Data Destruction Services
Types of Electronics We Recycle
Visit our Frequently Asked Questions to learn more about e waste and why it's important to keep old computers and other electronics out of our landfills.
We recycle all telecommunications equipment (Phones, PBX, Cables, Switchgear, Answering machines) Don't let these sort of items take over your space. Clear the clutter and recycle your unwanted telecom equipment.
CALL TRI-STAR TODAY! (615) 265-8101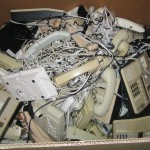 Recycle Telecom Equipment