OMEGA RECYCLING SOLUTIONS
COMPUTER AND ELECTRONICS RECYCLING
IN NASHVILLE AND MIDDLE TENNESSEE



731.298.4683
Think globally. Recycle locally.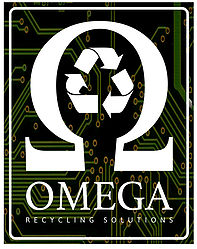 We work with Nashville businesses to recycle most types of electronics. If you have items that are not listed below, please contact us. The only items we absolutely cannot accept are those that cannot be recycled.
IT ASSETS
Desktop Computers

Laptop Computers

LCD Monitors

CRT Monitors* (Limited number at no cost. Please contact us with details about your specific items.)

Cables

Cords

Motherboards

Hard Drives

Printers

Modems

Routers

Keyboards

Mice

PCI Cards

RAM

Mainframes & Related Equipment

Network Equipment

Fax Machines

UPS/ UPS Batteries

Cell Phone

Cell Phone Charges

iPods/iPod Docking Stations


Scanners

Servers

Hubs/Switches
We can accept certain types of consumer electronics, including those listed below.
However, please note that we do not provide residential services.
Camcorders

Speakers

Cameras

VCR/DVD Players

CD Player
Cordless Phones & Chargers

Gaming Systems


Stereos/Radios

Pagers
Electronics we accept for recycling